The following preset VOB settings profiles are offered by OJOsoft Total Video Converter, OJOsoft AVI Converter, OJOsoft DVD Ripper, OJOsoft HD Video Converter, OJOsoft MKV Converter, OJOsoft MOV Converter, OJOsoft MPEG Converter, OJOsoft VOB Converter or OJOsoft WMV Converter.
DVD NTSC High Quality (HQ 8000 kbps )

DVD NTSC Standard Play(SP 4380 kbps)

DVD NTSC Long Play (LP 3600 kbps)

DVD PAL High Quality (HQ 8000 kbps )

DVD PAL Standard Play(SP 4380 kbps)

DVD PAL Long Play (LP 3600 kbps)

[Custom VOB]
If your input video files got no audio track, the VOB profile settings [Video Only VOB] is for you which can be found with OJOsoft HD Video Converter or OJOsoft Total Video Converter.
Edit VOB settings and VOB parameters specification
The Edit Profile settings for VOB handles all the detailed settings for VOB video.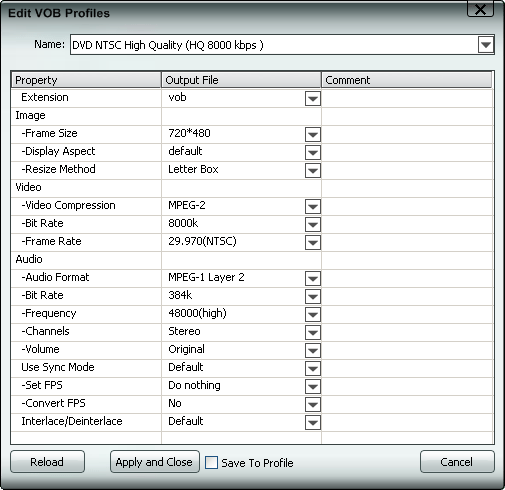 OJOsoft Video Conversion Software offer kinds of parameters specification for your choice as follows.
Frame size/Resolution of VOB: 352*240 352*288, 720*480, 720*576.
VOB Display Aspect/Aspect Ratio settings: 1.33:1, 1.78:1, 1.85:1, 2.35:1.
VOB Video Compression/CODEC: MPEG-2
VOB Video Bit Rate: 2048k, 2700k, 3000k, 3600k, 4000k, 4380k, 5000k, 8000k, Original, Same Quality As Source.
VOB Video Frame Rate: 25(PAL), 29.970(NTSC).
VOB Audio Format/Compression: MPEG-1 Layer 2, AC3.
VOB Audio Bit Rate settings: 96k, 112k, 128k, 160k, 192k, 224k, 256k, 320k, Original.
Audio Frequency/Sampling rate for VOB: 48000(high)
VOB Audio channels: Mono, Stereo, 5.1 Channels, Original. The AC3 5.1 Channels is supported as output when the input audio channels is Dolby Digital 5.1 channels.
VOB Audio Volume: 50%, Original, 150%.
Use Sync Mode, Set FPS, Convert FPS for VOB: Use Sync Mode: Default, Mode A, Mode B, No. Set FPS settings include Do nothing, As source, As NTSC, and As PAL while Yes or No can be selected in Convert FPS.
Interlace/Deinterlace for VOB: Default , Interlace, Deinterlace.
VOB video file
A VOB file (Video Object) is a container format in DVD-Video media. VOB can contain video, audio, subtitle and menu contents multiplexed together into a stream form. Other DVD files include IFO and BUP files
Step-by-step conversion guide