The page is about WMA settings profiles preset by OJOsoft Video/Audio Converters. The following WMA settings profiles can be provided by OJOsoft FLV Converter, OJOsoft Audio Converter, OJOsoft DVD Audio Ripper, OJOsoft M4A Converter, OJOsoft MP3 Converter, OJOsoft WAV Converter, OJOsoft WMA Converter, OJOsoft DVD to Zune Converter, OJOsoft MP4 Converter, OJOsoft WMV Converter, OJOsoft Zune Video Converter.
For Media Player Best Quality
For Media Player Economy Quality
For Pocket PCs/PDAs Normal Quality
For PC Normal Quality
[Custom WMA]
Normal Quality – Windows Media Audio 8: 44100 Hz, Stereo, 128.00 kbps
OJOsoft Total Video Converter, OJOsoft DVD Ripper, OJOsoft HD Video Converter also gives you WMA settings profile of WMA Normal Quality - WMA: 44100 Hz, Stereo, 128.00 kbps.
Edit WMA settings and WMA parameters specification
The Edit WMA settings profile handles all the specific settings for WMA.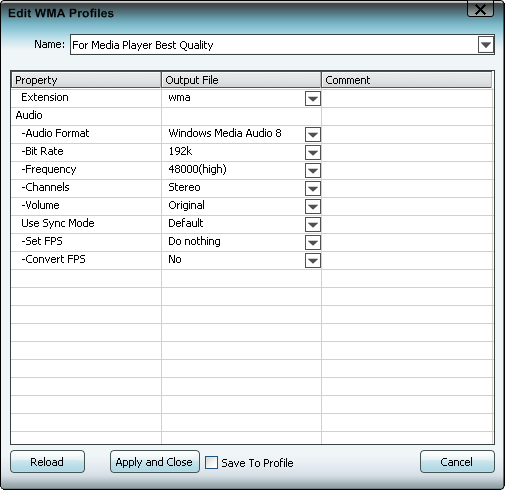 OJOsoft Video/audio Conversion Software give kinds of parameters specification for your choice as follows.
WMA Audio Format/Compression: Windows Media Audio 7, Windows Media Audio 8.
WMA Audio Bit Rate: 16k, 48k, 56k, 64k, 96k, 112k, 128k, 160k, 192k, 224k, 256k, 320k, Original.
Audio Frequency/Sampling rate for WMA settings profile: 8000, 11025(low), 12000, 16000, 22050, 24000, 32000, 44100(normal), 48000(high), Original.
WMA Audio channels: Mono, Stereo, Original.
WMA Audio Volume: 50%, Original, 150%.
WMA settings of Use Sync Mode, Set FPS, Convert FPS: Use Sync Mode: Default, Mode A, Mode B, No. Set FPS settings include Do nothing, As source, As NTSC, and As PAL while Yes or No can be selected in Convert FPS.
Interlace/Deinterlace for WMA: Default , Interlace, Deinterlace.
WMA - Windows Media Audio
WMA, short for Windows Media Audio, is an audio format created by Microsoft to compete against MP3. Even though Microsoft claims that WMA is able to deliver the same quality as MP3 at half the bitrates, that statement is certainly false. A more realistic number would be same quality at around 25% smaller bitrates - and that applies to low bitrates only.
Step-by-step conversion guide