How do I get the coupon code for discount?
You can get the coupon code in various ways. There are some websites offering coupon code for customers to buy the software. Or you can ask us to give you a discount.
Here are some discount packs for you to choose.
OJOsoft All-in-One Media Toolkit - Buy One Get All FREE
OJOsoft Media Converter Suite - Three-in-one program pack
OJOsoft DVD Video Converter Suite - DVD and Video solution
OJOsoft Video Audio Converter Suite - Integrated conversion program
OJOsoft DVD Audio Converter Suite - All-in-one solution for DVD and audio
OJOsoft DVD 3GP Converter Suite - Bundle for 3GP conversion
OJOsoft DVD MP4 Converter Suite - Pack for MP4 conversion
OJOsoft DVD AVI Converter Suite - all-in-one solution for AVI
OJOsoft DVD iPhone Converter Suite - Ideal iPhone conversion tool pack
OJOsoft DVD iPod Converter Suite - iPod conversion bundled program
OJOsoft DVD PSP Converter Suite - PSP conversion program pack
OJOsoft DVD Zune Converter Suite - Integrated solution for Zune
OJOsoft Mobile Devices Converter Suite - Six-in-one devices conversion program pack

In what situation you can get a discount coupon code from us?
There will be various situations we will give you a discount. If you want us to give you a discount and you think you do have a reason to get the discount, please just contact us at sales@ojosoft.com with the details of your reason. Here we listed some situations we'd like to give you a discount.
Situation 1: you want to buy more than one product or more than one copy of a product at one time.
Situation 2: you have bought one product from us, and you still want to buy another product from us.
Situation 3: you have a website and you want to add a link to our website or promote our software on your website.
How to use the coupon code?

Go to Purchase to buy OJOsoft products. Choose the product you'd like to buy and enter the order page. First enter the coupon code in the form. Click the blue button Update and the price will change to the discounted price. Now you can enter the other information on the purchase page.
More service you'll get if you bought OJOsoft software
FREE lifetime upgrade
FREE lifetime and priority email support: support@ojosoft.com
A key to use the software beyond the evaluation
Remove all the limitations of trial version
How to purchase OJOsoft software
There are three ways you can purchase OJOsoft products.
First, go to the Purchase page. Find the software you need to buy, click Buy now to buy it.
Second, you can go to the purchase page of the OJOsoft software you want to buy. For example, if you'd like to buy OJOsoft Total Video Converter, just go to buy Total Video Converter page and click Buy now to buy it.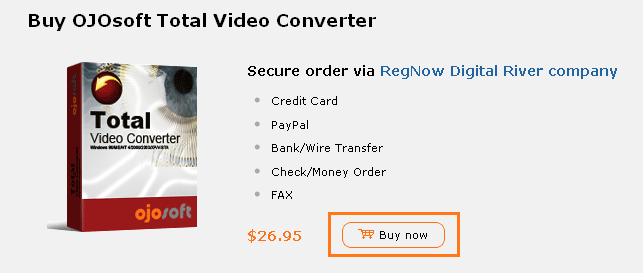 Third, if you have installed the trial version on your computer, you open the program, click Help-Buy now to buy it.
If you have any problem on buying our software, please contact us at
sales@ojosoft.com
. We will reply to you in 24 hours.
More files codec